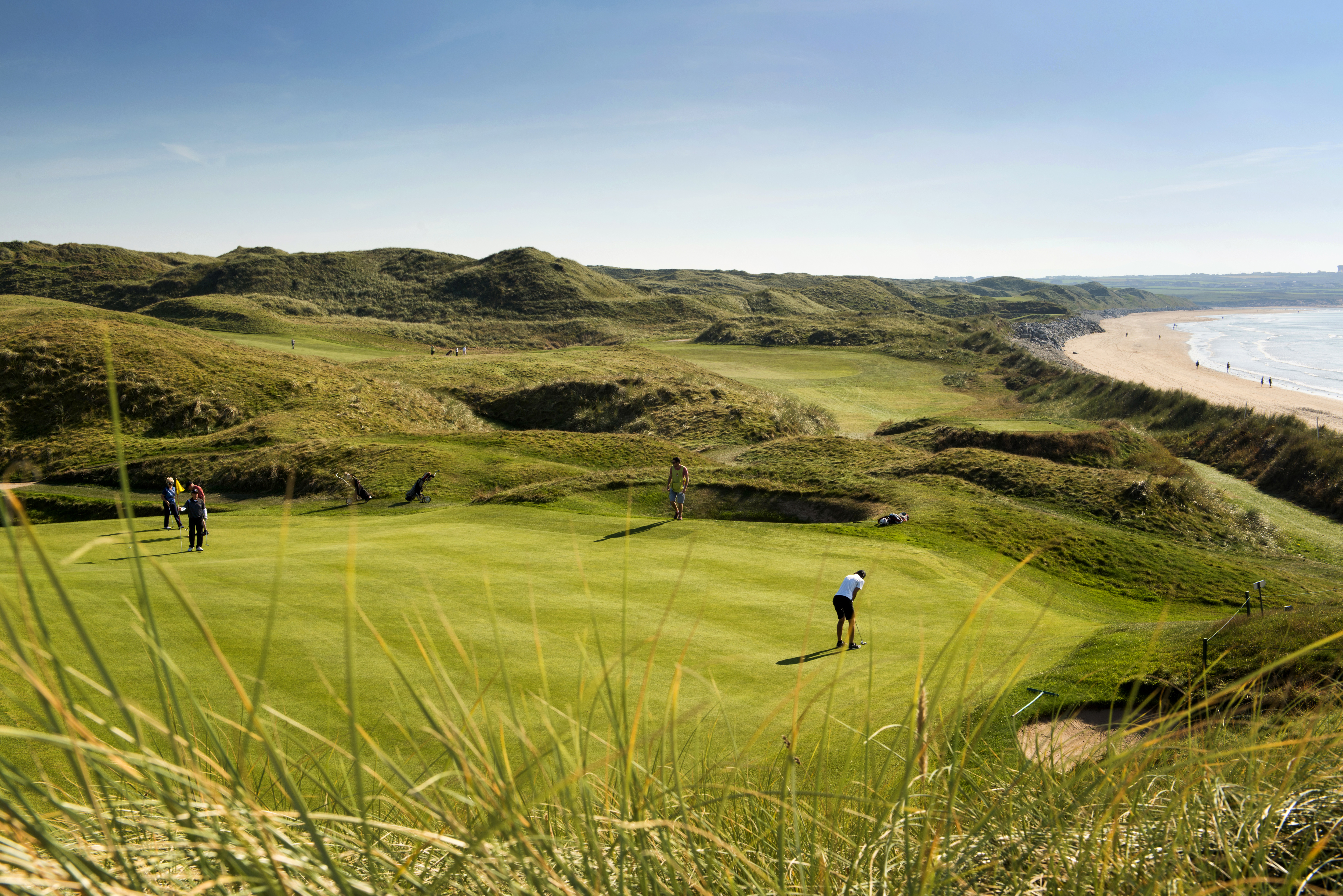 When is the best time to play golf in Ireland?  The simple answer is anytime!  The vast majority of the 400 plus golf courses in Ireland are open 12 months of the year.  There are advantages and disadvantages connected with playing golf in Ireland in each season.  
The busiest period for golf courses in Ireland is from the beginning of May to the end of September.  Golf courses will charge peak green fees during this period and it is essential to book in advance at all of the iconic courses if you plan visiting Ireland during this period .  However, the "shoulder season" of April and October represents an excellent time to visit Ireland as golf courses aren't as busy and green fee rates are also slightly lower.
If you are planning a golf vacation to Ireland there are a number of factors to consider when deciding the time of year to travel:
Weather – Ireland enjoys a temperate climate meaning that we enjoy a mild climate throughout the year.  Our driest and warmest weather traditionally comes from May to September.  Temperatures in Ireland during this period range from 60f to 75f (15c to 25c) with July and August normally the warmest months.  Winter weather in Ireland is normally quite mild and heavy snowfall is a rarity.  November to February traditionally has the highest rainfall levels but there is something really special about enjoying a hot whiskey after playing golf in Ireland on a cool day! 
Cost – visiting off peak (October – April) will definitely reduce the cost of your Ireland Golf Tour.  The cheapest months to travel to Ireland are November – March when golf green fee rates and hotel prices are at their lowest.
Golf Course Closures – some links courses close to visitors from the beginning of November to the start of March to allow for course maintenance.  It is always essential to check this.
Irish School Vacations – Irish schools take their summer vacations in July and August with secondary schools (high schools) also closing in June.  Travelling to Ireland during the school vacation period can reduce availability at hotels.
Festivals & Sporting Events – you should always check if there are any festivals or major sporting events taking place in the region of Ireland that you plan to visit. Some of Ireland's main festivals include the Saint Patrick's Day Festival (mid March), The Rose of Tralee Festival (end of August), Horse Racing Festivals (take place at various racecourses throughout the year), Fleadh Cheoil Festival (mid August), National Ploughing Championship (end of September), Galway Oyster Festival (end of September) and The Dublin Horse Show (mid August).  Ireland's main annual sporting events include The Dubai Duty Free Irish Open Golf (May), The All Ireland Football & Hurling Finals (September) and International Rugby matches (February and March).  Hotel and golf availability is greatly reduced when festivals and sporting events are taking place.
There is never a bad time to visit Ireland and playing golf in Ireland in any month or any weather is always an exhilarating experience!
Planning in advance and speaking with an expert is key.  A member of our team will be delighted to answer any questions that you have in relation to deciding when is the best month to play golf in Ireland.  Contact Ireland's Best Golf Tour Operator Fairways and FunDays today!
Fairways and FunDays – Your Ultimate Golf & Ireland Experience