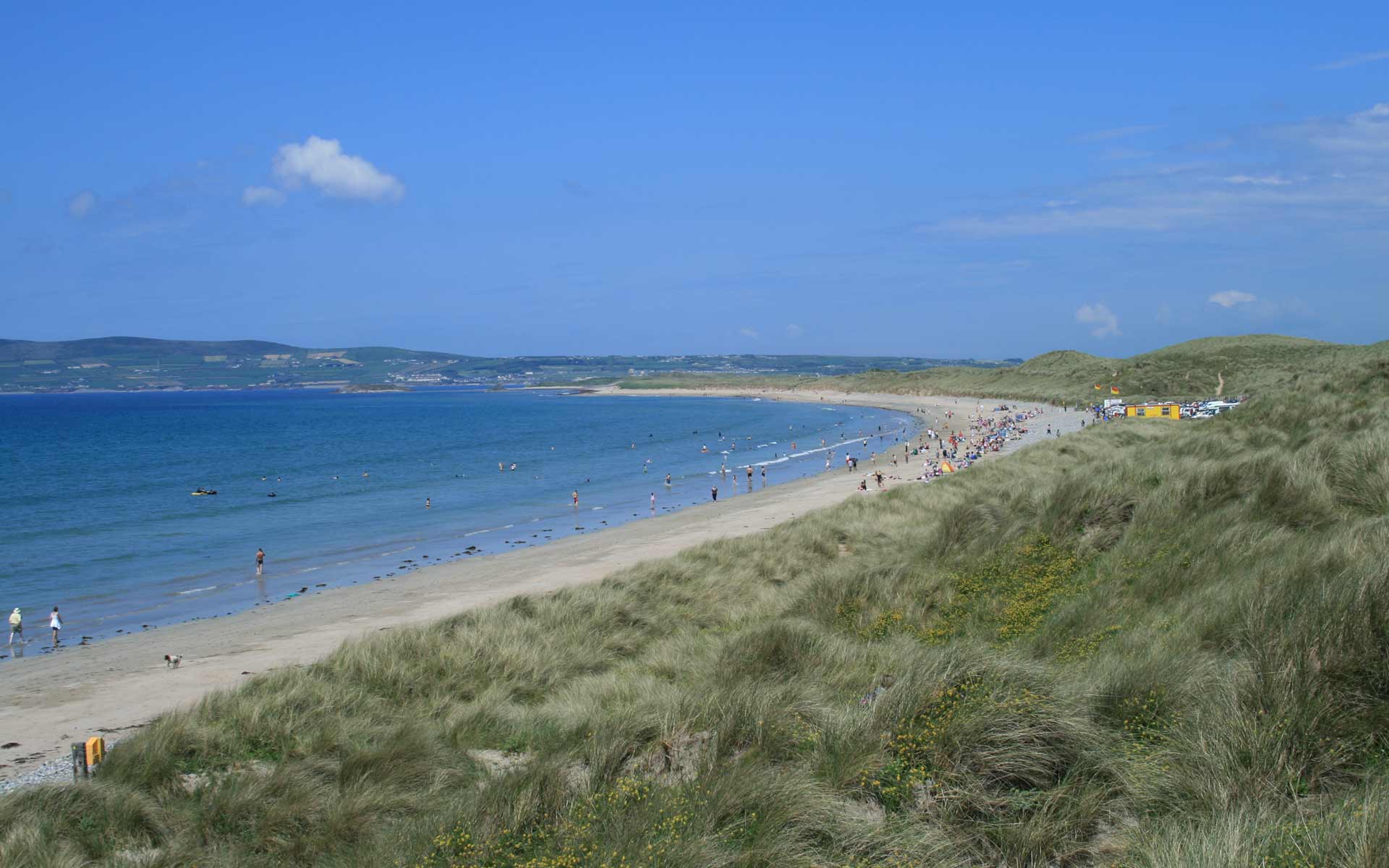 With thousands of kilometres of unspoiled coastline, Ireland is home to some of the world's most stunning beaches. For this reason, it is very difficult to narrow all the beautiful beaches down to a small list of just 10 (in no particular order). From secluded bathers' coves to stretches of exposed shoreline, there's something here for every beach-goer. Though the water may not be as warm, on a sunny summer day the clear seas and dramatic scenery of these Blue Flag-certified beaches give their tropical counterparts a 'run for their money'.
1. Inch Beach, County Kerry
A popular surfing beach on the dramatic Dingle peninsula, Inch is a three-mile-long sand-spit that separates the harbors of Dingle and Castlemaine. At Inch, unsuspecting tourists approaching the peninsula from the east are rewarded with fabulous views across this white sand beach and out into Dingle Bay. The quiet majesty of the surrounding Slieve Mish Mountains make the setting all the more breathtaking. A truly cinematic vista, it was famously featured in the Academy Award-winning film Ryan's Daughter.
2. Main Beach, Bundoran, County Donegal
This beach is responsible for inspiring the timeless classic song "Beautiful Bundoran" and the seaside town in which it is located has always been a preferred destination for international and Irish surfers alike and it was even tapped for European Championship hosting duties in 2011. The Peak, one of Ireland's most well-known waves, breaks over an offshore reef, luring expert surfers from all over the world. Meanwhile, the main beach area is able to accommodate less experienced surfers each summer. National Geographic named Bundoran one of the top 20 surf towns in the world and there is also a yearly surf and music festival known as Sea Sessions that takes place each summer.
3. Rosses Point Beach, County Sligo
Rosses Point Beach, at the western end of the Sligo peninsula of the same name, is loved for its incredible views on all sides from Knocknarea Hill to Sligo Bay and the Darty Mountains. From here you can also see Coney Island, the original that lent its name to the famous area in New York. Named for its abundance of wild rabbits, this remote islet is accessible by foot at low tide and offers the potential for finding a deserted beach all to yourself.
4. Brittas Bay, County Wicklow
In summer months the shores of Brittas Bay provide a welcome escape to many Dublin residents seeking a dip in the Irish Sea. The four-kilometer expanse of amber sand bordered by gently sloping dunes offer plenty of space for both holiday makers and locals to enjoy the peaceful charms of the east coast. Ideal for long, ambling walks, visitors can also partake in surfing, horse-riding or play golf at the celebrated European Club golf course.
5. Killiney Strand, County Dublin
This south Dublin strand is only a short train journey from the center of the city but it feels a world away. Although the beach is stony it is still possible to swim in the bay, but perhaps the best way to spend a day here is to walk up Killiney Hill and soak up the panoramic views. At its peak you can take in the Bray Head headland in the distance, as well as the Wicklow Mountains and the endless blue of the Irish Sea. It's even possible to see as far as Wales if the weather permits it.
6. Keem Beach, County Mayo
Those who visit the village of Dooagh are often captivated by Achill Island's Keem Bay. Safely nestled in the horseshoe shaped valley, travelers can explore Keem Beach's uniquely beautiful cove, which is surrounding by jaw dropping cliffs. This area is only accessible by a Croaghaun mountain road, which is well known for its high-altitude sea cliffs, which are the tallest in Ireland. Keem Beach used to be home to a basking shark fishery and while many trek to this secluded strand for the majestic view, it is also a popular destination for scuba divers and snorkeling enthusiasts.
7. Dog's Bay and Gurteen Bay, Connemara, County Galway
These two amazing white sand crescents almost look like a mirror image of each other when viewed from above, with just a few hundred metres of flat green headland keeping them apart. The sand here is part of the appeal, consisting of shells from sea creatures or foraminifera, which gives the sand its dazzlingly white colour. The beaches are some of the safest in the area, protected from waves and without any major currents to be cautious about.
8. Portsalon Beach, County Donegal
Portsalon Beach is a beautiful sandy beach on the shores of Lough Swilly. It gently slopes towards the Atlantic Ocean and is located in a Natural Heritage Area. This beach is truly magnificent when viewed from above. The beach at Portsalon can be reached by travelling north east in the R246 from Carrowkeel to Portsalon. It is widely-recognised as one of Donegal's finest beaches and indeed, one of Ireland's top beaches as well.
9. Inchydoney Beach, County Cork
With its peaceful and spacious sands, this breathtaking beach, located just outside Clonakilty in western Cork reigned supreme on Ireland's beach lists among TripAdvisor users for three consecutive years from 2015 to 2017, receiving several coveted Travelers' Choice Awards. It was ranked second in 2018. Revelers are able to relax next to the crystal-clear waters and enjoy optimal conditions for surfing.
10. Murlough Beach, County Down
Murlough Beach comprises a wide flat sandy beach with a 2 m wide pebble ridge above high water mark. The beach is backed by an ancient sand dune system throughout its 6 km length. A large area of the dunes is designated as a National Nature Reserve. The Nature Reserve is a fragile 6,000 year old sand dune system. It is an excellent area for walking and bird watching due to its location at the edge of Dundrum Bay and the Mourne Mountains. The spectacular scenery makes it one of Ireland's greatest beaches.
All Fairways and FunDays tours promise the best of Ireland by day and by night – spectacular scenery, exhilarating entertainment, fantastic food, amazing activities, and magical memories are guaranteed.
Fairways and FunDays – Your Ultimate Golf & Ireland Experience