Ireland offers a wealth of incredible Shopping Experiences and a wide array of traditional and international products are available to purchase during your Ireland Golf Holiday or Irish Vacation.
Ireland has become a destination of choice for travellers on Shopping holidays due to the extensive selection of shops and the excellent value that is available.
Whether you are in search of traditional Irish crafts or internationally famous clothing brands you can find it all during your Ireland Vacation.
All of our main cities feature superb Shopping Centres/Shopping Malls which feature an excellent combination of international brands and magnificent Irish brands. All of these centres are open daily from 9am to 6pm with extended opening hours to 9pm on Thursday's.
Dublin, Galway, Cork, Limerick, Waterford, Kilkenny, Belfast and Derry offer incredible city shopping with a wealth of shops located on their city streets. You will enjoy a vibrant feel in all of these cities as you explore their shops in search of bargains! Why not stop for some delicious Afternoon Tea as you enjoy your shopping.
Ireland is home to a number of Outlet Centres including Kildare Village and Junction One. Fairways and FunDays offer VIP shopping experiences at both of these centres.
Kildare Village is located less than one hour from Dublin and is home to over 80 magnificent boutiques from Calvin Klein to Hugo Boss to Armani to Gucci. You can enjoy exclusive discounts of up to 60% compared to high street prices at Kildare Village. Your VIP visit includes access to the VIP Lounge, Handsfree Shopping and a delicious 2 course lunch in L'Officina.
Junction One is located less than 30 minutes from Belfast City and is home to over 50 stores including Gap, Asics, Golf Nation and Adidas. Junction One offers exclusive discounts in all of its stores. Junction One is also home to Junction Jack's Mini Golf which is sure to be a hit with younger travellers.
If you are travelling to Ireland from outside of the EU, you can enjoy Tax Free Shopping during your Ireland Golf Vacation or Irish Holiday. A member of our team will be delighted to assist you in relation to this.
Ireland is truly a shoppers paradise and as the saying goes offers the perfect location to "Shop till you Drop!"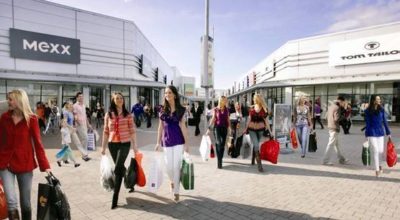 VIP Shopping Experience at Junctrion One Outlet – Antrim
Junction One Outlet is an international outlet park located in Country Antrim, close to many well known tourist attractions. It is a large retail park that is home to seventy individual outlets, with many high street giants, designer brands...