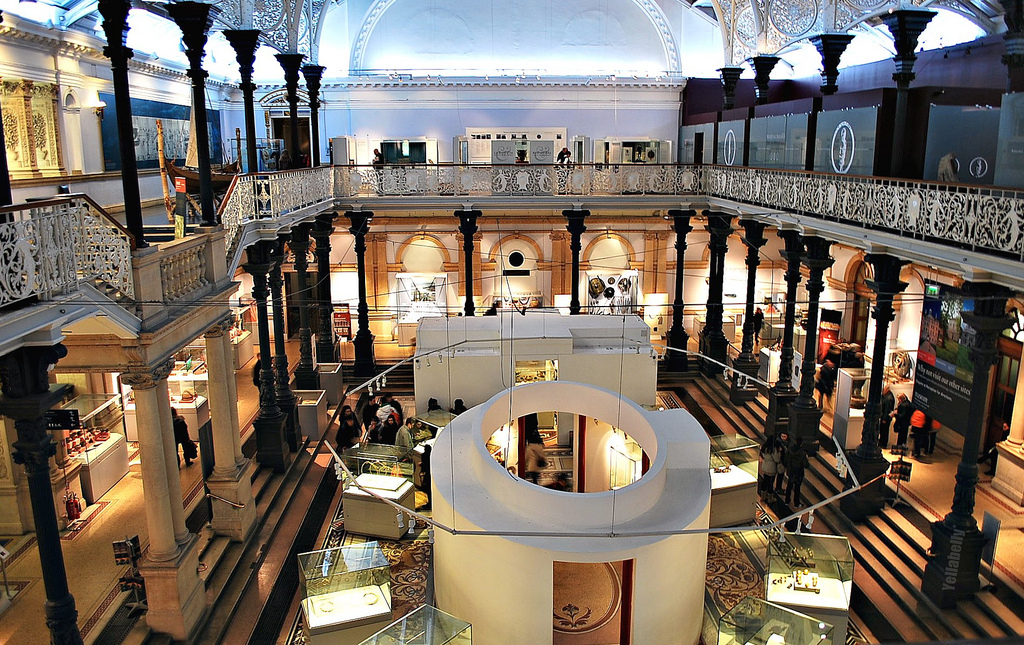 Ireland's numerous museums focus on various aspects of its history, ranging from its prehistoric origins through to the struggle for sovereignty that brought about the founding of the Irish Free State in 1922 – and beyond. Below are just a few of the best museums to visit during a trip to Ireland.
1. National Museum of Ireland – Archaeology (County Dublin)
Ireland's National Museum consists of four different premises, each with a specific focus. On Dublin's Kildare Street, The National Museum of Ireland – Archaeology houses a rich collection of prehistoric artefacts from home and abroad, most notably items of Celtic art and a selection of incredibly well-preserved Iron Age 'bog bodies' exhumed from Irish peat bogs.
2. National Museum of Ireland – Natural History (County Dublin)
Close by on Merrion Street, the cabinet-style Natural History Museum – locally known as 'The Dead Zoo' – champions zoology and geology through a selection of exhibits that includes the full-size skeletons of long-extinct giant deer that once lived in Ireland.
3. National Museum of Ireland – Decorative Arts and History (County Dublin)
The National Museum of Ireland – Decorative Arts and History at Collins Barracks has a permanent exhibition posthumously celebrating renowned Irish furniture designer Eileen Gray, examples of pioneering 21st-century Irish craft, and other collections that focus on both Irish and international design. Arguably its most famous item is the Fonthill Vase, the earliest documented piece of Chinese porcelain in Europe. In 2016, temporary exhibitions marking the centenary of the 1916 Easter Rising rebellion were added, several of which are still running at the time of writing.
4. National Museum of Ireland – Country Life (County Mayo)
The fourth and final branch of the National Museum of Ireland is based in County Mayo in the west of the country. Opened in 2001, the Museum of Country Life highlights how rural Irish people lived during the period between 1850 and 1950.
5. EPIC The Irish Emigration Museum (County Dublin)
Opened in 2016, EPIC tells the moving and unforgettable stories of those who left the island of Ireland, and how they influenced and shaped the world. EPIC embraces the past and the future with 1,500 years of Irish history and culture housed in its atmospheric vaults. The world's only fully digital museum, experience this breathtaking story in state-of-the-art interactive galleries, complete with touch screens, motion sensor quizzes and a feast of powerful audio and video that bring Irish history to life. Watch characters from the past tell one-of-a-kind tales of adventure and perseverance, conflict and discovery, belief and community.
6. Glasnevin Cemetery Museum (County Dublin)
Voted Ireland's number one museum in the 2016 TripAdvisor Travellers' Choice Awards, and a previous winner of Best International Museum at the UK's Museum and Heritage Awards for Excellence, Dublin's Glasnevin Cemetery Museum, opened in 1832, offers a fascinating insight into Irish history. It was one of the first burial grounds to open after the repeal of a law forbidding Irish Catholics from burying their dead in their own cemeteries. The very man who fought to repeal that law, political leader Daniel O'Connell, is now buried here, along with other well-known cultural and revolutionary figures such as Michael Collins and Constance Markievicz. The museum's 'Milestone Gallery' contains the life stories of 200 people buried here.
7. The Medieval Museum (County Waterford)
A key attraction in Ireland's oldest city, The Medieval Museum lies in the award-winning cultural area of Waterford known as the Viking Triangle. The only medieval museum in the country, it's home to artefacts such as The Great Charter Roll of Waterford (1373) and Europe's only complete set of medieval cloth-of-gold vestments. The museum also holds two original medieval chambers within its limits, reached via a spiral staircase dating back to the 13th century.
8. The Hunt Museum (County Limerick)
Limerick city's Hunt Museum consists of a renowned collection of artefacts bequeathed by the historian and antiquarian John Hunt and his wife, Gertrude. Currently based in the Georgian Custom House building by the River Shannon, the museum holds antiquities and artworks that date back as far as Ireland's Mesolithic era and ancient Egypt. Other notable pieces include works by Jack B. Yeats, Renoir, Picasso, and Irish fashion designer Sybil Connolly.
9. The Chester Beatty Library (County Dublin)
Throughout his lifetime, early 20th-century mining mogul Sir Alfred Chester Beatty travelled the globe amassing a world-class collection of Islamic and Far Eastern rarities, from Arabic texts and muraqqa albums to Japanese picture scrolls. His most precious possessions also include biblical papyri and prints by European artists such as Albrecht Dürer. Located on the grounds of Dublin Castle, the Chester Beatty Library is the only Irish museum to date to earn the title of European Museum of the Year in 2002.
10. Céide Fields Visitor Centre (County Mayo)
The world's oldest known field systems can be found in County Mayo, along with an award-winning visitor centre, complete with enlightening exhibitions and an audio-visual show. Guided tours, 45–60 minutes, are also available of the surrounding landscape, where stone-age houses, stone walls, and tombs have been kept in incredible condition, buried beneath a peat bog. After a tour, visitors can warm up in the museum's tea rooms.
11. Titanic Belfast (County Antrim)
Opened in 2012, the vast Titanic Belfast is one of Ireland's newer attractions but has already been hugely successful, attracting more than 800,000 visitors during its first year and being named Europe's Leading Visitor Attraction at the prestigious World Travel Awards in 2016. Built on the site where the ship itself was constructed prior to its ill-fated 1912 maiden voyage, the impressive, angular exhibition space holds within it nine interactive galleries, all reflecting on the history of one of the most famous maritime disasters in the world.
All Fairways and FunDays promise the very best of Ireland by day and by night – spectacular scenery, exhilarating entertainment, fantastic food, amazing activities, and magical memories are guaranteed!
Visit www.fairwaysandfundays.com today. 
Fairways and FunDays – Your Ultimate Golf & Ireland Experience