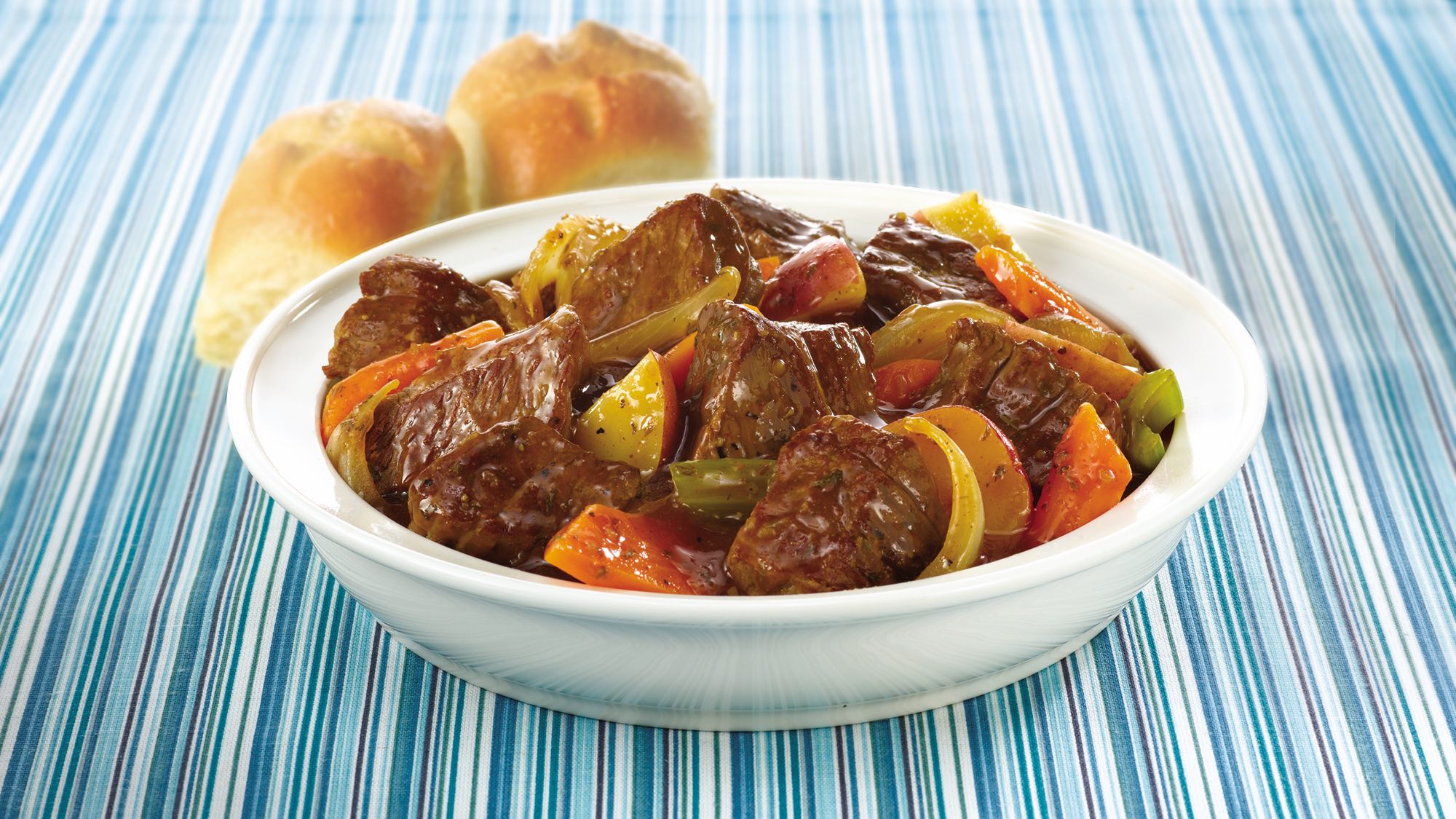 There's nothing more tasty than some traditional Irish food – whether that's a Roast Leg of Lamb, a bowl of Irish Stew or a freshly baked Apple Crumble.  We've listed 10 of Ireland's most famous food dishes:
Roast Leg of Lamb with Rosemary & Garlic
This roast lamb recipe uses the classic combination of garlic & rosemary to flavour the lamb leg. An easy side dish to serve alongside the roast lamb is simply braised baby gem, with peas in white wine and thyme. In springtime, wild garlic appears all across Ireland in shaded woodland areas. It is easy to recognise from its distinctive garlic smell. The leaves can be harvested and treated like any salad leaf or used to make a pesto to serve alongside the lamb.
Potato & Irish Cheddar Rolls
These are light and truly delicious rolls. They are a nice change from soda bread & they freeze very well too. Delicious when served up with Irish Stew or just covered in a thick layer of Irish butter.
Individual Bacon & Cabbage Pies
Cooked in a creamy white sauce and then baked under a puff pastry, this a true comfort food treat. For an extra variation, try mixing some cheddar cheese in alongside the ham and cabbage when you mix it through the white sauce.
Irish Soda Bread
Soda Bread is an amazingly easy, versatile recipe and has stood the test of time as an Irish classic because it so simple. There is no fuss with this particular style of bread. You can change this classic by adding lots of tasty things like sea-salt, different cheeses or herbs. It's delicious on its own or served with a warm bowl of soup.
Irish Stew
Irish stew is legendary. It is composed of any variety of meat and root vegetable native to Ireland. As in all traditional folk dishes, the exact recipe is not consistent from time to time, or place to place. Common ingredients include lamb, or mutton, as well as potatoes, onions, and parsley. It may sometimes also include carrots.
Beef & Guinness Stew
Beef and Guinness stew is a perfect dish for a cold autumn day. You can serve this as a stew or take it one step further and use it as the filling for an impressive pie. Do make sure the meat is tender before serving, different cuts of meat will take longer cooking times.
Dublin Coddle
Traditional Irish food is all about comfort and nothing proves this more than Dublin coddle. Do seek the best butchers, sausages and streaky bacon you can get your hands on, as for a simple dish like this one, it makes all the difference.
Irish Brack
Barmbrack is a traditional Irish fruitcake which is also knows as Irish Tea Cake depending on the time of year that you're eating it. This recipe makes a really beautiful moist fruit loaf which is packed with wonderful flavours from the mixed spice and dried fruit, which sits overnight in cold tea and whiskey to soak up all the goodness. You can drop the whiskey if you wish but I think it adds another flavour kick.
Guinness Chocolate Cake
If you are a fan of decadent treats, this Chocolate Guinness Cake is the dessert for you! The dense and fudged chocolate cake has a fantastic malty flavour which comes from the addition of the stout and is topped with a creamy white chocolate cream cheese frosting which resembles a pint of Guinness!
Apple Crumble Cake
This Irish apple crumble cake is a nice little twist on the classic with a moist apple cake interior and a light crumbly topping, and the classic combination of apple and blackberries could also be used here.
All Fairways and FunDays promise the very best of Ireland by day and by night.  Spectacular scenery, exhilarating entertainment, fantastic food, amazing activities, and magical memories are guaranteed!
Visit www.fairwaysandfundays.com today
Fairways and FunDays – Your Ultimate Golf & Ireland Experience